Wearable Dark Glamour – Wardrobe Essentials

So, what is my "wearable dark glamour"?
It is a stylistic direction that can be described as:
Quiet and flamboyant.
Dramatic and intense, yet introvert.
Always present in the now, yet eternally fascinated by heritage.
Steering towards the future with disregard for trends.
Libertine and restrained.
Simple and exaggerated.
Enchanting and practical.
It is a style I would describe as essentially dark and alluring.
While somewhat gothic, it is in no way subcultural.
Also, in many ways it is similar to the so-called avant-gardism of many contemporary designers with mainly monochromatic tendencies.
It is a mix of implicitly complementary contrasts, such as conservativism and extravagance, tradition and progressiveness, prudishness and fetishism, minimalism and exaggeration, glamour and casualness. Sometimes willfully bordering on camp. Sharp and serious with an ironic, playful streak.
Too minimalistic to be actual glamour, too glamorous to be minimal.
Too feminine and purposefully seductive to be gender-fluid, too classical to be considered avant-garde.
Too futuristic to be labeled traditional.
Timeless, ageless.
And most of all, WEARABLE – meaning practical, functional, usable and versatile. 
First of all, your primary goal as a "dark glam girl" (to be taken lightly ?) is to accentuate your siren features, that is, your hot hourglass figure. While some may slip a sigh here believing this feature is reserved for the select few, it is actually not. You just need to learn how to wear your clothes properly.
By "accentuating the hourglass figure", I do not mean wearing a corset and swaying your hips at all times. I mean being aware of your strong or less strong features (or flaws, if you will) and making what you've got work in the best possible way, so that you may feel confident in your outfit at all times.
Anyhow, there are a few essentials that, when properly combined, can work wonders on most body types.
Most of these items should be "unbranded" or at least, look that way.
I would also keep them black, for the sake of simplicity.
Let's start with bottoms.
1. Black leggings
While some may argue that wearing leggings / tights is a sign of defeat, I beg to differ.
Leggings are simply a figure enhancing tool when worn properly.
Of course, you don't want to be sporting a weird looking crotch, so always wear leggings as a layering piece, unless you're at the gym.
I would opt for two different types of black leggings:
– One pair of high quality fabric matte black leggings, as black and matte as possible, with as little texture as possible – these should serve as a deep black layer and make your legs look slim and toned, when you want the attention elsewhere on your outfit.
– Or, if you want to accentuate the legs a bit more, you would opt for leather leggings or leggings with a shiny texture. I would go for the black leather look here. Also, this item is something you do
not 
want to be cheap about. I would suggest investing in genuine stretch lamb leather leggings with a high waistline or some really good anonymous-looking leggings with the said effect, like, for example,
Spanx
.
Leggings are not a clothing item that you want to accentuate, or parade your bottom in.
They are a layering piece.
2. Mini skirt with a sheer maxi layer
This item is very versatile. It looks modest but shows some figure simultaneously. It allows for countless combinations with various tops, both revealing and modest, giving you countless maxi black dresses in one.
3. Tunic
Here, I would opt for a sheer, sleeveless one in the first place. V-neck. Although you should own a few with various necklines . Also, this item should be made of quality fibers that do not require too much ironing, and its main function is to be a top/middle layer, so you're sure that you're not sporting a cameltoe in the leggings that I already told you to buy. So, the length is right above mid-thigh. And the shape should be the one that makes your figure look its best.
4. Jumpsuit
This one comes before the LBD on my list, I love the versatility of this clothing item so much.
Here you have a lot of options, depending on your figure.
A good jumpsuit makes your figure look slim, can be worn through all seasons with a good jacket, and can be dressed up or down in a matter of minutes. You look corporate enough to attend a business meeting, but if you add some adequate jewelry and style your hair in a different way, you're also dressed for the proverbial red carpet. Riding a bike or running is also not excluded with this one. You catch my drift. Your freedom of movement is not restricted in a good jumpsuit and it is versatile in that that it is able to get you through any dressing requirement.
5. Little Black Dress
The little black dress, of course. I like to have many, but as far as the anonymous looking little black dresses go, I would opt for the figure-hugging type just below the knee, one sleeveless for summer and one turtleneck with long sleeves for winter.
6. Kimono
There's simply no real Dragon Woman without a kimono.
This is where you should let your imagination take you strange places. Preferably where the sinister and the sensual meet ?
Also, a wild kimono will spice up any otherwise dull or "anonymous" combination.
7. Leather jacket
You simply must own a black leather jacket.
8. A statement jacket or coat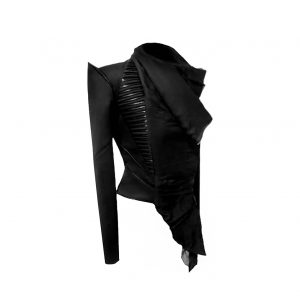 A statement jacket is whatever you want it to be.
It is supposed to give your outfit a defining touch.
It should also keep you warm and fabulous.
10. Corset
A pretty basic overbust waist training steel boned corset. To me, this one is a must.
Also, an underbust should do. These are very practical for when you need to accentuate the waist with less drama.
Both can be worn for the sake of physical satisfaction when tightlaced, if you are into that.
Under other garments to accentuate the figure, or visible on top of other items.
I prefer my corsets rather neutral and minimalistic.
And now for the really interesting part – accessories.
This is where you go nuts.
1. Sunglasses
You simply must have sunglasses with you wherever you go. Especially if you are going out at night. You know what suits your face best, but I would suggest some really fancy, large cat-eye shades with a thick frame. I personally like black and tort frames. These are classics.
My all time favorite shades are the chunky, sturdy and quite affordable Le Specs Air Heart, although I own several more extravagant ones.
2. Belts belts belts !!!
Belts are my favorite accessory. I like mine in black leather with silver details, but I own many colors and many different metal hues. You simply have to own an insane amounts of belts. They also might come in handy. ?
3. Leather bag
This should be a statement piece in my opinion, so I would invest a bit here.  If branded, I would stay away from visible logos. Either way, a high quality clean cut leather bag that works with most outfits through all times of the day is a must. I will not get into details here, as I believe everyone should own a collection of bags ranging from minimalistic to extravagant, in all sizes, shapes and colors.
4. Shoes
Well, this should probably be a separate blog post, but I'll try to keep it simple.
You need:
– One pair of black (semi)nubuck/leather wedges, completely plain and inconspicuous. These should work as an extension of your legs in leggings,  and enhance your posture. These are not meant to be a statement piece.
– One pair of cowboy boots – those pointy ones, with a metal toe. You simply must, you're a drama queen. These are for when you go ballistic on your lover, only to have a spicy make-up sesh afterwards.
– Riding boots, type flat boots, you know why.?
– Statement heels that make your legs look fantastic and make you a towering presence of charisma.
I would also buy sneakers, let's keep it real.
Just keep piling on shoes. This list is never ending.
5. Jewelry
You might want to include some really special items here.
Something that is not mass-produced or easy to obtain where you live.
Or, if it is, you should be really selective about it.
I got my fave pieces of silver from the Egyptian Museum in Cairo.
I have some jewelry that I always wear, and some seasonal pieces that I throw in for fun.
Almost all of it is in various metal and earthy jewel tones.
An occasional accent color.
6. Head pieces
Nah. Not essentials. You might want to own a turban or a classy headband for bad hair days.
7. Makeup
I am not going to lecture anyone on makeup, as I probably need a reality check every now and then before leaving the house, but owning an excellent black eyeliner and the perfect shade of red lipstick is a must.
I wear red lipstick mostly on special occasions, and some natural lip shades daily.